ZS-YT4T-4PM Automatic 4 Heads Honey Jam Ketchup ChocolatePaste Bottle Filling Machine With Mixer Heater
Click  For Video
This machine is designed with mixing and heating function,and it can feed filling material automatically.This machine is good for filling pepper sauce,chocolate etc.Each nozzle can be controlled separately.It is widely used in food,beverage,daily chemical industries.

Parameter

Model:ZS-YT4T-4PM
Voltage:110/220v 50-60HZ 600W
Filling Range:5-100m/10-300ml/50-500mi/100-1000ml/500-3000m/1000-5000ml
Working Speed:20- 50bottles/Min(Based On Water)
Heating Temperature:About 0-300℃
Mixing Speed:About 1200r/min
Filling Accuracy:≤+1%
Air Pressure:0.5-0.7mpa
Conveyor Size:About 2000*100mm(l*w)
Size Of Filling Nozzle:φ10mm
Size Of Air Compressor Connector:φ10mm
Machine Weight:329kg
Machine Size:975*1020*2010mm
Package Weight:392kg
Package Size:1660*1130*2130mm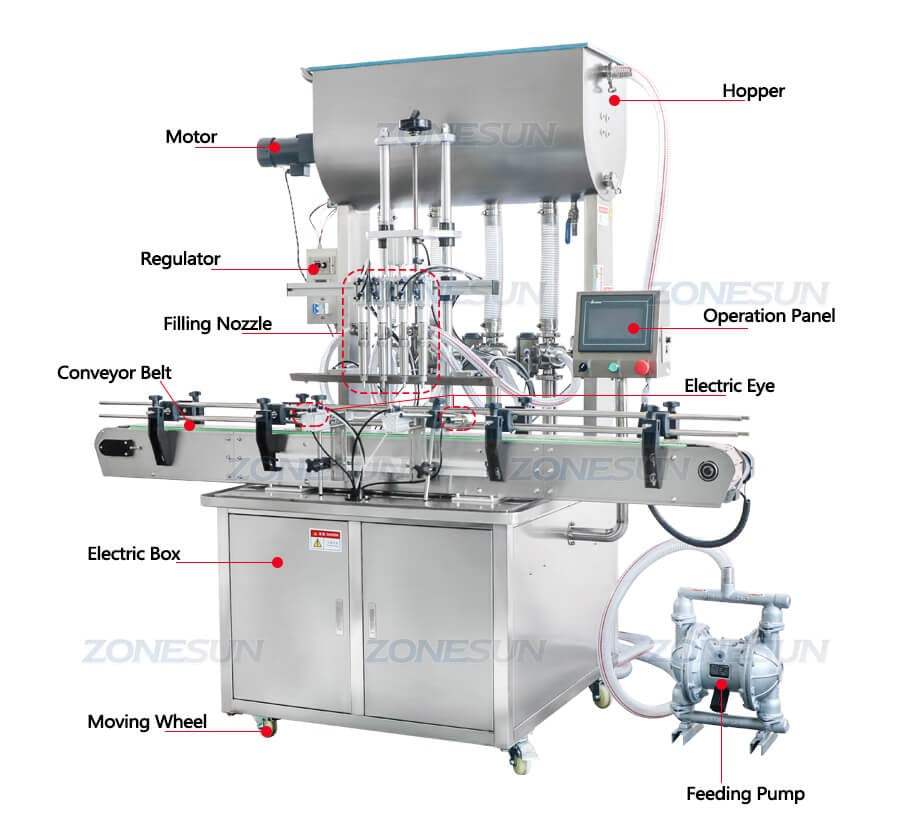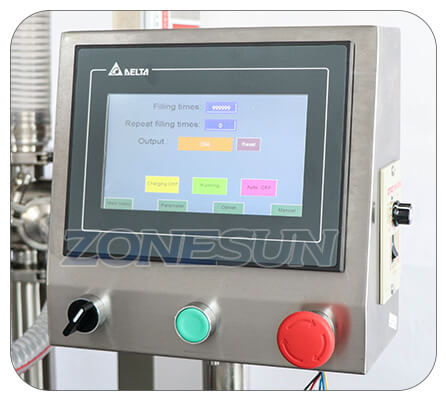 Equipped with touch screen control panel,this makes working parameter visual and more convenient to operate.The operation language can be customized into different kinds of language according to your need,please contact us if you need this
The high quality filling nozzle is with larger power when filling materials,this can improve filling efficiency.Each filling nozzle can be controlled separately.
The electric eye can be used to detect bottles and control the machine to start or stop filling liquid into bottles.It realizes the automated production and can reduce production error.
This machine is with mixing and heating function,the heating temperature and mixing speed can be adjusted according to the regulator.This is good for filling jam,face cream,chocolate etc.
The chain conveyor belt is with weight capacity,good for transporting bottles stably.The length of conveyor belt can be customized according to production need.
Equipped with feeding pump,it can feed filling material automatically and no need to pour material into tank.This helps to save production labor and improve production efficiency.
We know some customers may need the product urgently and hope they can place the order as soon as possible.In this situation,we offer e-mail and online chat support to help our customers to know more thing about our products and service.For contact support: 
Kelly
Whatsapp / Wechat / Phone:+86-18928646433
Email: sales@zonesuntech.com

Joyce
E-mail:sales12@zonesuntech.com