ZONESUN Automatic Plastic Shampoo Cosmetics Cream Tube Filling And Sealing Machine
Click  For Video
Automatic Filling and Sealing Machine is specially designed for the products.Which has a small quantity and a special tube diameter.The machine has the virtue of the high-speed filling and sealing machine,with a highly automatic operation and runs smoothly.It can be automatic tube filling, sealing, cutting and print date.the unique one-headed design is easier to clean.More convenient to the size changing and more simply to control.it is suitable to be for medicine cream, toothpaste, cosmetics, glue, adhesive,ketchup and art palette industry especially.
Parameter
Machine Model:ZS-FS009U
Voltage:220V/110V 50-60Hz
Power:2.6KW
Hopper Capacity:30L
Filling Range:6-60ml / 10-120m l/ 25-250ml
Filling Accuracy:±1%
Sealing Speed:18-28pcs/min
Sealing Diameter:16-50mm
Sealing Height:70-210mm
Sealing Method:Ultrasonic Sealing
Ultrasonic Frequency:20KHz
Air Pressure:0.6Mpa
Application:Aluminum-plastic soft tube/Plastic soft tube
Machine Material:Stainless Steel
Machine Weight:About 410kg
Machine Size:About 1615*1400*1590mm
Package Weight:About 555kg
Package Size:About 1610*1760*1860mm
Through the PLC operation panel,you can set working parameters like filling speed and sealing time.The visualized data makes it easier to control the machine.And the language of the panel can be customized according to customers'need.
With anti-dripping function, it can fill liquid or paste more accurately.The position of the filling head can be adjusted by the rotary handle,making it suitable for tubes of different heights. Easy and convenient
When the sensor detects the tube,the machine will seal tube and print date or batch on the tube at the same time Intelligent and efficient. Adopting ultrasonic sealing method,the sealing position will be firm and beautiful.
The tube feeder is used for making the tubes in order and feeding them automatically, saving labor cost and improving work efficiency.
Tube holder is designed for positioning the tubes, enabling them to be filled and sealed well. Save labor cost and improve work efficiency. The molds can be customized according to tubes'size.
Larger air cylinder,it can ensures the machine has larger power and can work stably.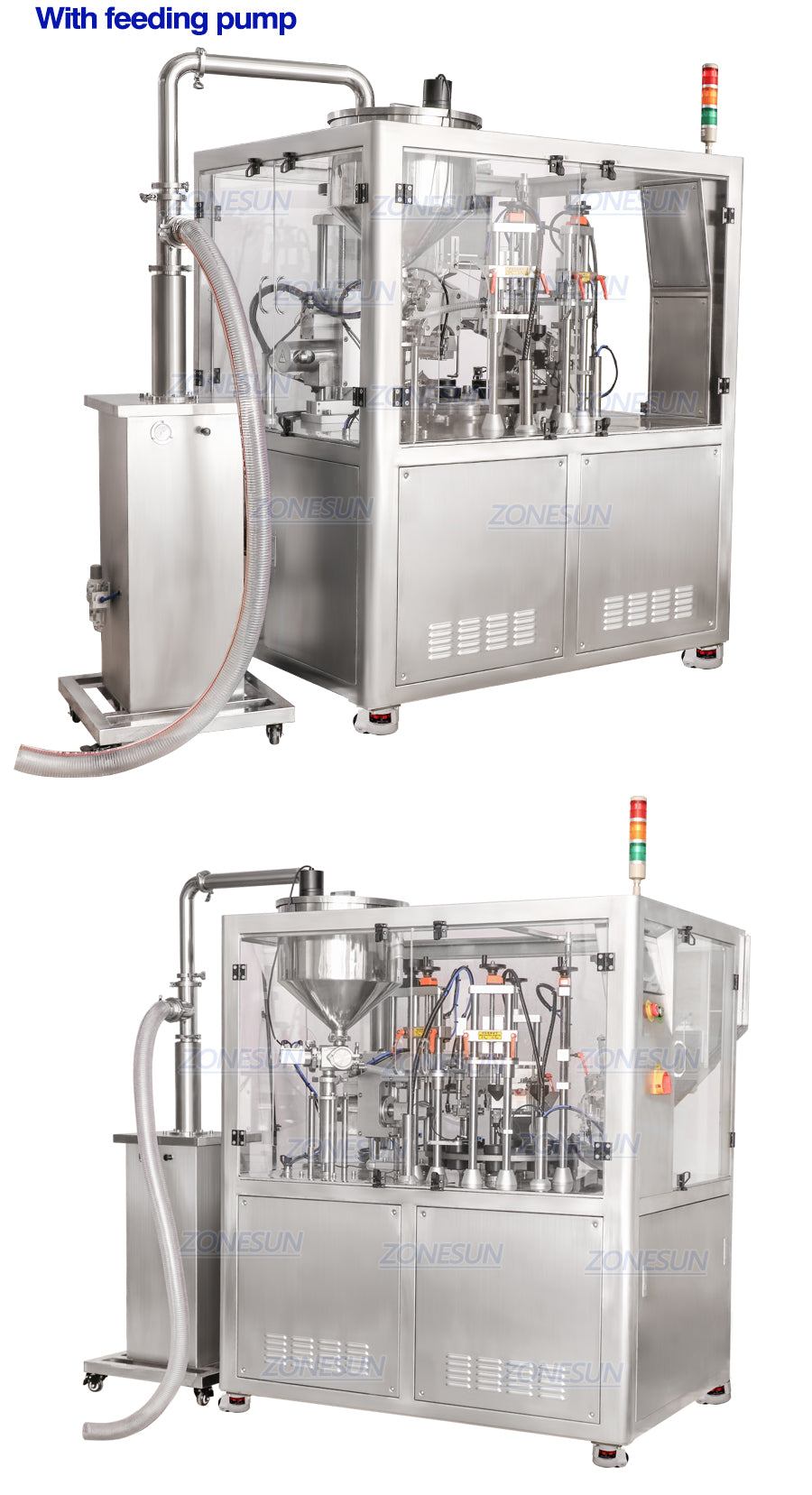 We know some customers may need the product urgently and hope they can place the order as soon as possible.In this situation,we offer e-mail and online chat support to help our customers to know more thing about our products and service.For contact support: 
Kelly
Whatsapp / Wechat / Phone:+86-18928646433
Email: sales@zonesuntech.com

Joyce
E-mail:sales12@zonesuntech.com